Russian Documents Leaked Showing Trump's Campaign Links to Russia and "Perverted Sexual Acts" "Golden Shower Presidency"
January 11, 2017
Document Cloud has the documents from Russian operatives linking President Elect Trump's campaign operatives and himself to Russian interference. The link I just provided gives a dossier of Russian operative reports linking Trump's involvement with Putin back 5 years, at least. According to reports, Trump's senior campaign director, Carter Page, held secret meetings in Russia regarding their support of Trump as a US presidential candidate.
According to the source, "kompromat" was gained on Trump and his "perverted" sexual acts while Trump was in Russian, orchestrated by the equivalent of the KGB, in order to have blackmail material to control Trump.  Business Insider quoted some of the most damning reports, which Trump has declared "fake news," but for all of us wondering what has happened to the investigation of Russia's interference and just how far it reached, this news is unsurprising:
The operative claimed that Russian intelligence sources said they had "compromised" Trump during his visits to Moscow and could "blackmail him" with evidence of his conduct, which included "perverted sexual acts arranged and monitored" by the Russian federal security service (FSB).

But the Russians, the operative says in the dossier, " promised not to use the 'kompromat' they hold on Trump as leverage, given high levels of voluntary cooperation forthcoming from his team."

The memo asserts that the Kremlin has "been cultivating, supporting and assisting TRUMP for at least 5 years.  Aim, endorsed by PUTIN, has been to encourage splits and divisions in western alliance."
When Comey, head of the FBI was questioned during a hearing about the validity of the intelligence reports on Trump, Comey dodged:
When asked about reports that Trump's campaign had contact with Russia during the election, Comey told the Senate Select Committee on Intelligence on Tuesday that he could "not comment in an open forum" on whether his agency is pursuing an investigation into the alleged ties.
Is there any more "open forum" than the presidency? The presidency which Trump is supposed to handle in mere weeks?
According to the report, not only is Trump's team involved in Russia now, Trump's team collected and sourced intelligence information for Russian officials for the last 8 years. Premier Peskov is apparently to be made the scapegoat for the fallout of Russian interference, the fact that sanctions have been ordered, that Russians have been deported from the US, and that the investigations have led to international comment. The documents linking Russian interference to the US election are dated 5 August 2016 (see page 14 of the document), months before the election took place. The FBI knew about Russian interference, but only put Clinton in the crosshairs, strategically before the election.
The New York Daily News has published information that the documents are unsubstantiated, but it focuses entirely on the sexual acts, not the collusion with the Russian government:
A two-page summary of the unsubstantiated allegations was presented to Trump and President Obama last week in meetings with the CIA, FBI, National Security Agency and director of national intelligence, CNN reported Tuesday.

A longer document that the summary was allegedly based on was published in full by BuzzFeed News on Tuesday. It said that during a 2013 trip to the Russian capital, Trump made Russian prostitutes defile a Ritz-Carlton bed where President Obama and First Lady Michelle Obama had stayed on a previous occasion.

It said the incident was captured on surveillance cameras.

Putin's team calls U.S. probe into Russian hacking a 'witch hunt'

The accusations in the BuzzFeed documents are unconfirmed, though Trump did travel to Russia in 2013 when he hosted the Miss Universe pageant there. The Obamas traveled to Moscow in July 2009.
Pesky, in a panic, says that there was no compromising information on Trump. Of course, Russia has also denied interfering in US elections, even when Russian operatives breached the DNC, so protestations of innocence are tough to believe. CNN reports that Peskov says the information provided by operatives is "pulp fiction":
During a conference call on Wednesday, Peskov said the claims were false. "No, the Kremlin does not have 'Kompromat' on Trump," he said in response to a question from CNN. "The information does not correspond to reality and it is complete fiction."

"Clearly there are those who are creating hysteria, who are trying to support this witch hunt, and President-elect Trump himself described it like this."
Instead of belittling the reports, and instead of immediately believing Trump, who has been so cozy with Russia from the beginning that it has drawn ire, let's just imagine what might happen if Trump is found to have a Russian connection. If that is true, not only would the Russians have succeeded in electing the US President of their choice, proving their might in digital espionage, but then they can also prove that they can topple that candidate when they choose. It's a position of incredible power. In effect, then, Russia has destabilized the entire US political system with nothing more than a few covert operatives working on laptops.
Here's the other important piece of the picture: the operative finding Russian information was British, not part of the United States, and therefore more likely to be believable. The operative has provided credible intelligence information to the US government in the past, and is well-respected in his field. It would be virtually impossible to verify this information without access to classified intelligence documents, but our international allies have provided us with information on the Russian spies and interference, so it's not linked to any political party here in the States.
The irony of Comey, US head of FBI, releasing unsubstantiated information on a political candidate without verification, is not lost on most in the US. Come famously released information on Clinton months after he got the intel, right before the election, to stunning effect, but now he claims he can't answer investigative questions regarding Trump:
…then-Senate Democratic Leader Harry Reid to contact FBI Director James Comey.

He wrote in a letter in October: "It has become clear that you possess explosive information about close ties and coordination between Donald Trump, his top advisors, and the Russian government — a foreign interest openly hostile to the United States."

At a senate hearing on Tuesday

, Comey refused to comment on whether the agency was investigating any potential connections between the Trump campaign and Russia.

"I would never comment on investigations," Comey told Sen. Ron Wyden, an Oregon Democrat who repeatedly pushed the FBI director to release any information it had before Inauguration Day.

Sen. Angus King of Maine, an Independent, alluded to Comey's decision to go public on the FBI's additional investigations into Hillary Clinton's emails in the closing stages of the 2016 campaign. "The irony of you making that statement I cannot avoid," King said.

After the hearing, Wyden tweeted: "Director Comey refused to answer my question about whether the FBI has investigated Trump campaign contacts with Russia."
When do we get rid of Comey? When do ethics investigations start? With FBI investigations like this, why do we need enemies abroad?
 What is Trump's response? He tweets all of his responses, actually, and he calls it "fake news," again:
Intelligence agencies should never have allowed this fake news to "leak" into the public. One last shot at me.Are we living in Nazi Germany?
Go ahead and just lump the Germans in here, who have been thus far "just standing there," geographical location and all. Misdirect, misdirect…
So, what does Trump do when cornered about having Russian allegiance? He asks Russia if they are involved, and then tweets that they are not:
Russia just said the unverified report paid for by political opponents is "A COMPLETE AND TOTAL FABRICATION, UTTER NONSENSE." Very unfair!
Ah, the internet is a beautiful thing… Trump tweets that the Russian ties he supposedly has aren't verified by Russia. The sheer stupidity amazes me, but then I don't think I am alone in these things.
"Golden Showers Presidency" Who knew pee could change the world?

Fox News, an ardent supporter of Trump and neoconservatives in the past, had unwittingly but accurately tweeted this gem…
President-elect Donald Trump's plane given a water salute as it takes off from NY to the White House for his meeting with President Obama (11/10/16)
I. Can't. Stop. Laughing. The news has gotten wonderful.
Here's what you may have missed: As CNN acknowledges, those same claims were 

first reported

 before the election. Now CNN is reporting that FBI Director James Comey, Director of National Intelligence James Clapper, CIA Director John Brennan and Adm. Mike Rogers, director of the National Security Agency, have presented information summarizing the claims to Obama and Trump. That shows that the intelligence community takes the allegations seriously enough to investigate them, summarize them, and brief the president and his successor on them.
I don't think Trump ever felt he would be under such a microscope when he pushed to be president, but sexual misbehavior is part of what propelled him to the top in the first place. Is it worse if sexual "perversion" takes place in Moscow? Worse if it's with prostitutes? Worse if it's with Russian prostitutes? Only the FBI can tell us what that tipping point is. Trump, who loves to "grab women by their pussy," might have been letting loose a bigger stream of intel than even he knew.
Why publish the report? Well, it has been circulating for months, and the American public never knew. People claimed they couldn't verify the information, which they couldn't unless they had a KGB operative on their side, and at a certain point, everyone else had seen it, so why not?
But the timing is especially interesting. Trump has been criticizing the intelligence community's work on Russian interference in last year's election. "My take is that this is the IC trolling Trump," one former top intel official who works on Russia issues speculated. "Because Trump stupidly picked a fight with the IC, they're just releasing stuff to generate bad headlines."
On Tuesday night, Mother Jones updated its original story. "In Mother Jones' original report," the editors noted, "we did not publish the memos drafted by the intelligence official or cite specific details from the documents because the allegations could not be confirmed."
"I didn't publish all of the memos because the allegations in them couldn't be confirmed, and I couldn't confirm the FBI was mounting a thorough investigation of these allegations," David Corn, my ex-boss and the author of the piece, told me Tuesday. "So I thought it was responsible to note the memos' existence and characterize the information within them without providing all the details. Even Donald Trump deserves fairness."
Realistically, if the dossier had been circulating for months with top US officials, and Senator Jon McCain verified its existence,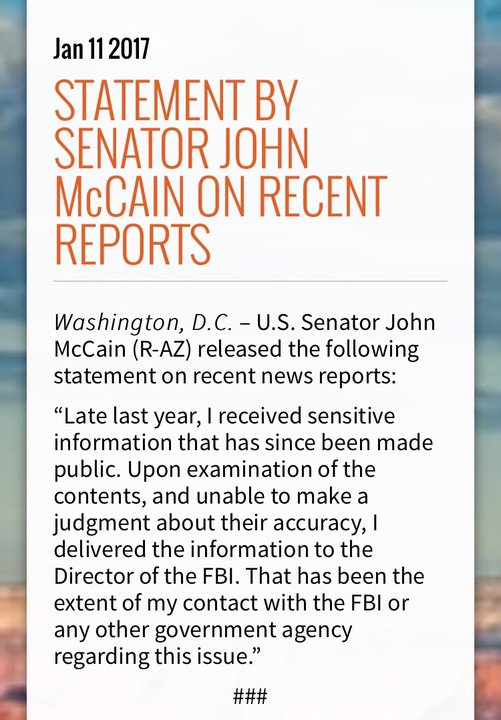 The report was verified, but now everyone is wondering if there are videos of Presidential Golden Showers. Do the Golden Showers matter as much as the link to the Kremlin? Apparently Golden Showers are more easily verified or discussed than links to Russian governmental agencies with the US President. Talk about taboo.
How about the planning for coronation day, I mean inauguration…
So what we've done instead of trying to surround him with what people consider A-listers is

we are going to surround him with the soft sensuality of the place.

It's a much more poetic cadence than having a circus-like celebration that's a coronation. That's the way this president-elect wanted it. I think it will be contributive. It will be beautiful. The cadence of it is going to be "let me get back to work."
I love America.
Soft and warm sensuality? Body temp warm, maybe? Shower him in sensuality? I can't stop…
The Guardian, which is a UK news agency, had this to say, namely that the British operative who reported this wasn't lying:
An official in the US administration who spoke to the Guardian described the source who wrote the intelligence report as consistently reliable, meticulous and well-informed, with a reputation for having extensive Russian contacts. 

Some of the reports – which are dated from 20 June to 20 October last year – also proved to be prescient, predicting events that happened after they were sent.

One report, dated June 2016, claims that the Kremlin has been cultivating, supporting and assisting Trump for at least five years, with the aim of encouraging "splits and divisions in western alliance".
Why ask Russia if the information about Russia is a lie, Trump? Why not ask Britain, the country that employed the operative?
Senator Jon McCain had seen the information and had the report independently investigated, but Trump, apparently, is afraid to do the same. The Guardian, the UK news source, states that Jon McCain "dispatched an emissary overseas to meet the source," more than Trump or Obama did:
The Guardian can confirm that the documents reached the top of the FBI by December. Senator John McCain, who was informed about the existence of the documents separately by an intermediary from a western allied state, dispatched an emissary overseas to meet the source and then decided to present the material to Comey in a one-on-one meeting on 9 December, according to a source aware of the meeting. The documents, which were first reported on last year by Mother Jones, are also in the hands of officials in the White House.

McCain is not thought to have made a judgment on the reliability of the documents but was sufficiently impressed by the source's credentials to feel obliged to pass them to the FBI.

The Senate armed services committee, which Senator McCain chairs, launched an inquiry last week into Russian cyber-attacks during the election.

McCain was reluctant to get involved, according to a colleague, for fear the issue would be dismissed as a personal grudge against Trump. He pushed instead for the creation of a special Senate committee to look into connections between campaign staff and Moscow, but the proposal was blocked by the Republican leadership.

McCain told the NBC programme Meet the Press on Sunday: "I would like to see a select committee. Apparently that is not in agreement by our leadership. So we will move forward with the armed services committee and I'm sure foreign relations and intelligence committee will as well."

But the senator added: "It is possible if enough information comes out, that that decision could be reversed. I still think it's the best way to attack the issue."
All the hype about the information being unverified neglects the fact that the source has been verified by a United States Senator, a well-respected veteran, and a political conservative, nixing the idea that this was motivated by the Democratic party. The Guardian reports that Trump's aides, and now his pick for foreign policy advisor, Carter Page were also part of the Russian collaboration, and the FBI had been investigating Page's visits to Russia:
Another report, dated 19 July last year said that Carter Page, a businessman named by Trump as one of his foreign policy advisers, had held a secret meeting that month with Igor Sechin, head of the Rosneft state-owned oil company and a long-serving lieutenant of Vladimir Putin. Page also allegedly met Igor Divyekin, an internal affairs official with a background in intelligence, who is said to have warned Page that Moscow had "kompromat" (compromising material) on Trump.

Two months later, allegations of Page's meetings surfaced in the US media, attributed to intelligence sources, along with reports that he had been under FBI scrutiny.

Page, a vociferous supporter of the Kremlin line, was in Moscow in July to make a speech decrying western policy towards Russia. At the time he declined to say whether he had been in contact with Russian officials, but in September he rejected the reports as "garbage".
Page has not denied he was in Russia, nor has he denied having ties with Russia, but he says that the reports are "garbage." Apparently the FBI requested a warrant to monitor, ostensibly, Page's interaction with Russian officials but was initially denied for requesting a warrant that was too broad. Details haven't yet surfaced as to whether or not the investigation leading to the original warrant request was completed:
The Guardian has learned that the FBI applied for a warrant from the foreign intelligence surveillance (Fisa) court over the summer in order to monitor four members of the Trump team suspected of irregular contacts with Russian officials. The Fisa court turned down the application asking FBI counter-intelligence investigators to narrow its focus. According to one report, the FBI was finally granted a warrant in October, but that has not been confirmed, and it is not clear whether any warrant led to a full investigation.

A month after Trump's surprise election victory, Page was back in Moscow saying he was meeting with "business leaders and thought leaders", dismissing the FBI investigation as a "witch-hunt" and suggesting the Russian hacking of the Democratic Party alleged by US intelligence agencies, could be a false flag operation to incriminate Moscow.
Trump's former campaign manager, Paul Manafort, appears to have been coordinating Trump's campaign statements to coincide with Russian interests while the campaign was actively running, timing campaign announcements to suit agreements Trump's campaign made with Russian operatives, as reported by The Guardian:
Another of the reports compiled by the former western counter-intelligence official in July said that members of Trump's team, which was led by campaign manager Paul Manafort (a former consultant for pro-Russian politicians in Ukraine), had knowledge of the DNC hacking operation, and in return "had agreed to sideline Russian intervention in Ukraine as a campaign issue and to raise US/Nato defence commitments in the Baltics and Eastern Europe to deflect attention away from Ukraine".

A few days later, Trump raised the possibility that his administration might recognise Russia's annexation of Crimea and openly called on Moscow to hack Hillary Clinton's emails.

In August, officials from the Trump campaign intervened in the drafting of the Republican party platform, specifically to remove a call for lethal assistance to Ukraine for its battle against Moscow-backed eastern rebels.
Manafort stepped down in August as campaign manager and the campaign steadily distanced itself from Page. However, Trump's praise of Putin and defence of Moscow's actions in Ukraine and Syria remained one of the few constants in his campaign talking points.
Why use The Guardian's information as a main source? The operative who broke the links to Trump and Russia was employed by the British, in the UK.
I couldn't resist that addition by Reason.com, who attacks BuzzFeed's publication of the Trump dossier. Of course, if everyone else has seen the dossier, why not the American public? Reason.com says it wouldn't publish the dossier without its own verification, but a sitting US Senator already verified the source, so I feel free to publish away. Let's make America great again with "soft sensuality," "golden showers," and a Russian mafia. Only in America.