As Trump Cozies Up To Russia, US Deploys Troops To Poland and States That Gave US Intel That Russia Pushed Money Into Trump Campaign
January 13, 2017
As Trump leans in to Putin, a daily bromance through Twitter, Obama deploys troops to Poland to help secure the border as Russia inexorably edges closer.
American soldiers rolled into Poland on Thursday, fulfilling a dream some Poles have had since the fall of communism in 1989 to have U.S. troops on their soil as a deterrent against Russia.

Some people waved and held up American flags as U.S. troops in tanks and other vehicles crossed into southwestern Poland from Germany and headed toward the town of Zagan, where they will be based. Poland's prime minister and defense minister will welcome them in an official ceremony Saturday.

"This is the fulfilment of a dream," said Michal Baranowski, director of the German Marshall Fund think tank in Warsaw. "And this is not just a symbolic presence but one with a real capability."

U.S. and other Western nations have carried out exercises on NATO's eastern flank in past years, but the new deployment — which includes some 3,500 U.S. troops — marks the first-ever continuous deployment to the region by a NATO ally.It is part of a larger commitment by President Barack Obama to protect a region that grew deeply nervous when Russia annexed Crimea from Ukraine in 2014 and then began backing separatist rebels in Ukraine's east.
The link above focuses on the Golden Showers element of Trump (read about the Golden Showers here: Russian Documents Leaked Showing Trump's Campaign Links to Russia And "Perverted Sexual Acts" "Golden Shower Presidency"), but setting Trump aside for just a moment, let's take a look at the significance of NATO-backed troops moving into Poland.  Why is it so important that US troops move into Poland? Putin considers it an act of aggression, moving into his back yard, if you will. It appears he already believes Russia controls Poland, as he has taken this latest installment of US troops as an insult.
"These actions threaten our interests, our security," President Vladimir Putin's spokesman Dmitry Peskov said Thursday. "Especially as it concerns a third party building up its military presence near our borders. It's not even a European state.
How near is Poland to Russian borders?
Actually, Poland doesn't directly border Russia, but it's telling that Putin believes that US troops in Poland are at its border. Sounds like Russia believes that US troops in Poland are in its borders.
When Russia first started talking about nuclear arms, Obama promised Poland that the US would match it, but Poland feels that this latest move is yet another round of promises by the US that fall short of real protection.
Poles still feel betrayed by Obama's "reset" with Russia early on in his administration, which involved abandoning plans for a major U.S. missile defense system in Poland and replacing it with plans for a less ambitious system, still not in place.

"All recent U.S. presidents have thought there can be a grand bargain with Russia," said Marcin Zaborowski, a senior associate at Visegrad Insight, an analytic journal on Central Europe. "Trump has a proclivity to make deals, and Central and Eastern Europe have reason to worry about that."

Polish Foreign Minister Witold Waszczykowski expressed hope this week that any new effort at reconciliation with Russia "does not happen at our expense."

The armored brigade combat team arriving in Poland hails from Fort Carson, Colorado. The troops arrived last week in Germany and are gathering in Poland before units will fan out across seven countries from Estonia to Bulgaria. A headquarters unit will be stationed in Germany. After nine months they will be replaced by another unit.

In a separate but related mission, NATO will also deploy four battalions to its eastern flank later this year, one each to Poland and the three Baltic states. The U.S. will also lead one of those battalions.
Baltic states were also the region from which intelligence accounts from Russian interference were verified. I wrote about this in the Golden Showers post:
Last April, the CIA director was shown intelligence that worried him. It was – allegedly – a tape recording of a conversation about money from the Kremlin going into the US presidential campaign.

It was passed to the US by an intelligence agency of one of the Baltic States. The CIA cannot act domestically against American citizens so a joint counter-intelligence taskforce was created.
In other words, those very states to which we are now sending troops were the same states that had intercepted intel info that money from the Kremlin was going directly to the US presidential campaign of Donald Trump.  The information about the money flow from Russia to the US came from none other than our allies in the Baltic States.
How back can hacking be? Trump declared "hacking is bad," but his simplistic rendition means he is no match for a former KGB operative like Putin. Newsweek reports that Russian hacking is more extensive than finding out that Clinton got debate questions before Trump:
The Russian penetration in the United States is far more extensive than previously revealed publicly, although most of it has been targeted either at government departments or nongovernment organizations connected to the Democratic Party. Russian hackers penetrated the White House, the Joint Chiefs of Staff and the State Department. The State Department cyberattack, which began in 2014 and lasted more than a year, was particularly severe, with Russian hackers gaining entry into its unclassified system, including emails. (Hillary Clinton left the State Department in 2013, which means that if she had used its unclassified email system rather than her private server—a decision that has dogged her throughout the campaign—any of her emails on the government system could have been obtained by Russian hackers.)

The breadth of the cyberattacks of nongovernmental organizations is astonishing. Russian hackers have obtained emails and other information out of the Clinton campaign and the Democratic National Committee, but also have struck at organizations with looser ties to the party, including think tanks such as the Brookings Institution, where some of Clinton's longtime friends and colleagues work.
Dismissing the intelligence information that determined Russia had "kompromat" on Trump requires disbelieving European states to whom we have just delivered military troops. While the United States blithely determined there was no factual merit to the intelligence briefings, Trump's organization had been disseminating Russian media to the United States media outlets at news to cover:
Even as Trump was disputing the role played by the Kremlin in the hacking, his campaign was scouring sites publicly identified by American intelligence as sources for Russian propaganda. Ten days before the third debate, Newsweek published an article disclosing that a document altered by Russian propagandists and put out on the internet—ultimately published by Sputnik—had been cited by Trump at a rally as fact. (The information distributed on the internet placed words that had appeared in Newsweek into the mouth of Sidney Blumenthal, a Clinton confidante. Taken in that context, they suggested that her closest allies believed she bore responsibility for the attack on the American mission in Benghazi, Libya.)

Subsequently, Sputnik, which took down that article, published another one essentially denying the news organization was controlled by the Kremlin and attacking Newsweek. Before the day was out, the Trump campaign was emailing links to the article from the Russian propaganda site to multiple reporters, urging them to pursue the story.
Before we launch into our denial diatribe again, let's just remember that troops haven't entered the Baltic states like this since the Cold War. It's as though the US government is run by two different arms attached to the same body. Trump is Putin's mouthpiece, and Obama deploys troops to push back against Putin. Think that the US deployment is a joke? No joke when tanks are sent in. The chilling statement echoed by Germany of war, is starting to look more and more real, even as Putin and Trump puppets deny the reality.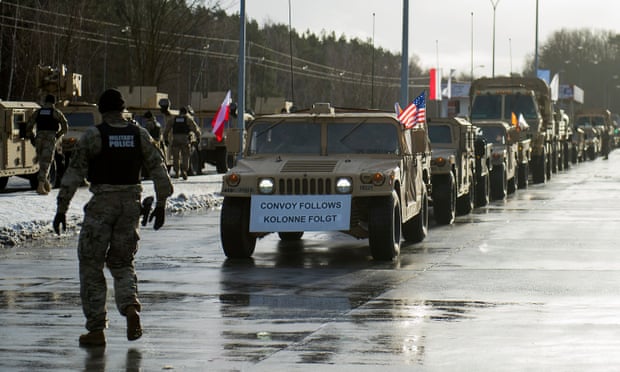 While Trump denounces Golden Showers as "fake news," which may occupy him for years to come, we are inexorably drawn closer and closer toward the flame of war. It's as simple as distracting a crying baby, and with Trump, it appears nothing else is needed. Compliment him or attack him, any attention given, and Trump immediately becomes fixated on the attention and its inescapable ego stroking. Trump argues about "fake news" while NATO deploys troops to bolster Baltic states. It's as though Trump can't even feel his own hands when they move from the from of his face.
Luckily for Americans, Trump's cabinet picks, who aren't agreeing with him, have responded to this threat of military troops. NATO is hoping that Trump being just one person, that the US will continue to back NATO efforts to push back against Russia's expansion through Europe. The Guardian, a UK based news outlet, has already moved on from salacious Trump details and is more focused on the pressing matters of Russian aggression and the newly appointed cabinet response to troop deployment Poland, namely hoping that US troops won't be prematurely withdrawn:
That prediction was reinforced by Trump's proposed defence secretary, James Mattis, and his proposed secretary of state, Rex Tillerson, who backed Nato during Senate confirmation hearings.

Mattis, in rhetoric at odds with the president-elect, said the west should recognise the reality that Putin was trying to break Nato.

Tillerson, who has business dealings in Russia, described Russia's annexation of Crimea as "as an act of force" and said that when Russia flexed its muscles, the US must mount "a proportional show of force".

Nato was caught out by the Russian annexation of Crimea from Ukraine in 2014 and has struggled to cope with Russia's use of hybrid warfare, which combines propaganda, cyberwarfare and the infiltration of regular troops disguised as local rebels.
Of course everyone in the US is distracted with Trump's sexual perversion and maybe won't acknowledge Russia's advances. However, the CIA nominee from Trump's cabinet is a former veteran who fought in the last Cold War against Russia, and he doesn't underestimate Russia. The NYTimes reports that Pompeo, Trump's CIA nominee, is literally a Cold War veteran:
 The first battle that Representative Mike Pompeo prepared to fight was against the Russians, when he commanded a tank platoon in Germany in the twilight of the Cold War. On Thursday, he made clear he was ready to take on America's old adversary if confirmed as director of the Central Intelligence Agency.

…The question hanging over Mr. Pompeo, and America's 17 intelligence agencies, is how to handle a president who embraces President Vladimir V. Putin of Russia while the agency tries to keep Russia in check. So far, nothing in the C.I.A.'s 69-year history has prepared it to deal with a president who is as openly derisive of its work as Mr. Trump.
Trump never commanded a platoon of tanks against Russia, and it appears that Pompeo is not swayed by Trump's bromance with Putin or Trump's Golden Showers distraction. Pompeo appears committed to keeping Russia in check, despite NATO fears that the President Elect won't understand Russia's moves:
Mr. Pompeo may have somewhat assuaged those concerns on Thursday when he was asked at his Senate confirmation hearing if the C.I.A., under his leadership, would continue to pursue intelligence on Russian hacking — allegations that have come amid a swirl of unsubstantiated rumors about links between the Trump campaign and the Russian government.

"I will continue to pursue foreign intelligence with vigor no matter where the facts lead," Mr. Pompeo said. He added that he would do this "with regard to this issue and each and every issue."

The C.I.A. under his leadership, he said, would provide "accurate, timely, robust and cleareyed analysis of Russian activities."
Perhaps the Republicans won't let Trump slide on Russian war tactics, but while Putin may have sent in a clown when he pushed to elect Trump, Putin may have underestimated other Americans who remember all too well the last time they engaged with Russia. Putin has made lots of enemies, and one man, no matter what news-grabbing headlines he may command, even as salacious as sexual perversion, can hold the attention of the country when troops are deployed. This is a much more arresting sight, wouldn't you say?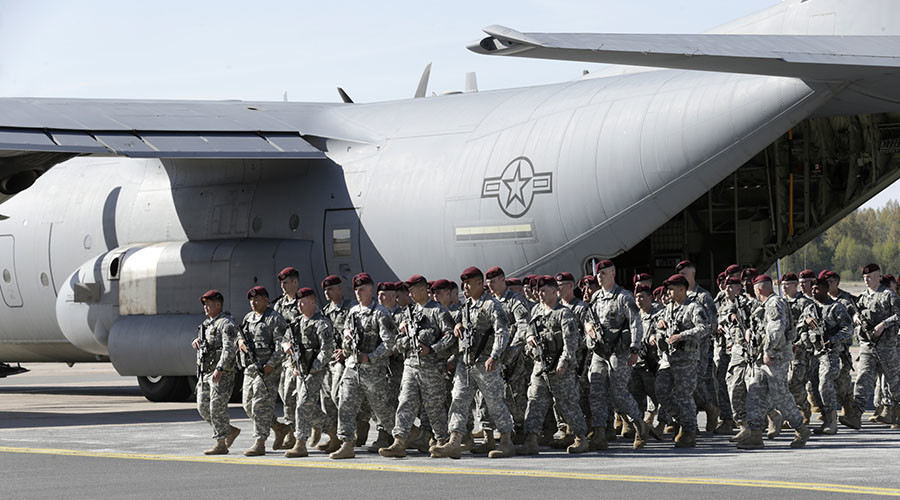 News commentators have also noticed escalating tensions between the US government and Russian government, outside of the Trump/Putin tango, and I am not the only one forecasting dangerous times ahead. PressTV commentators note that US troop deployment could be viewed as a ramp in more hostile relations:
Press TV has spoken to Brian Becker, member of the ANSWER Coalition, as well as Brent Budowsky, columnist with The Hill, to discuss this issue.

Brian Becker sees the US troop deployment to Poland as a very "provocative" move, adding that Washington and NATO have been "relentlessly" pushing eastward toward Russia's border since the collapse of the Soviet Union in 1991.

"25 years ago when the Soviet Union collapsed, there was an agreement – ratified again in 1996 – that the United States would not take advantage of the end of the Soviet Union by expanding NATO into Eastern and Central European states that had been Russia's principal allies. And in fact, it has done just that. It has pushed relentlessly," he said.

He also opined that Russia has no intention of invading the Baltic States, but that it perceives the United States' continuation of setting up missile shields in those countries as an attempt to gain "military superiority."

The analyst went on to say that the United States initially positioned the missile shield systems in Poland and Romania under the pretext of stopping Iran's nuclear threat which never really existed.

Therefore, he argued, now that the United States and the P5+1 countries have signed the nuclear agreement with Iran, known as the Joint Comprehensive Plan of Action (JCPOA), Washington must remove those missile shields.

He further stated if the United States has no intention to start a war, there is no reason for it to carry out military exercises with NATO on Russia's doorstep.

Elsewhere in his remarks, Becker noted that NATO troop deployment to Eastern Europe is like a "gravy train" that will connect the commercial interests in the region to the US military-industrial complex.

He also asserted that it is not the people of Poland, Latvia, Lithuania, and Estonia who have called for NATO troops to come in and save them from the "Russian menace," rather the right-wing governments of those countries.
ANSWER stand for Act Now to Stop War and End Racism, and bills itself as a US organization, but the quote above was published by PressTV.ir, an Islamic Republic of Iran news organization. ANSWER's stated mission is to end war; however, Iran has used that information to portray the US as engaging in war against Russia, which would only serve Iran well if it could also inflame tensions between the US and Russia, distract both countries who want to stamp out ISIS. Iran has nothing to lose by highlighting tensions between the US and Russia in hopes to destabilize them further.
Lest we Americans miss what has been happening, troops were sent to Poland back in April 2014, when Russia moved into the Ukraine, and more troops were deployed in October 2016 when Russia amped up nuclear arms missiles plans:
NATO defense ministers are meeting throughout Wednesday and Thursday to map out plans for each of the groups.

'Close to our borders, Russia continues its assertive military posturing,' said NATO Secretary General Jens Stoltenberg on Wednesday.

'This month alone, Russia has deployed nuclear-capable Iskander missiles to Kaliningrad and suspended a weapons-grade plutonium agreement with the United States.

'And Russia continues to destabilize eastern Ukraine with military and financial support for the separatists.
This above pronouncement was published by the UK on Oct. 26, 2016, when the Americans were eclipsed by Russian hacking scandals and its Presidential election. The Russians distract Americans from electing Clinton while moving troops closer to Baltic states and preparing nuclear arms.
Americans played along, jumped on the bandwagon to fight Clinton, all the while playing into the Kremlin's hands. Thank goodness NATO wasn't distracted enough to miss Russia's nuclear ams proliferation during that time. While Trump played the Clinton "hacking scandal," Putin played with nuclear arms:
The pictures were revealed online by chief designers from the Makeyev Rocket Design Bureau.

A message posted alongside the picture said: 'In accordance with the Decree of the Russian Government 'On the State Defense Order for 2010 and the planning period 2012-2013', the Makeyev Rocket Design Bureau was instructed to start design and development work on the Sarmat. '

The RS-28 Sarmat missile is said to contain 16 nuclear warheads and is capable of destroying an area the size of France or Texas, according to Russian news network Zvezda, which is owned by Russia's ministry of defence.

The weapon is also able to evade radar.
Putin is capable of playing a shell in cups game, and Trump is only capable of watching one hand at a time. Unfortunately, Americans were bogged down by shaming Clinton, and couldn't admit that Russian interference might have been subterfuge all along. I wondered why Russia would go to such lengths to antagonize Americans, and whenever Russia starts a campaign like this, I am always looking for the end game. What did Russia really want? Aside from hacking Clinton's email? Russia wanted a distraction, cover for its nuclear arms program.
Trump Debate Question Scandal and Golden Showers vs. Putin Nuclear Arms Development. According to The Daily Mail.UK, this is what Putin has been working on, proving his ability to multitask far exceeds Trump's:
It is expected to have a range of 6,213 miles (10,000 km), which would allow Moscow to attack European cities as well as reaching cities on America's west and east coasts.

 Dr Sutyagin points out that the SS-18 missiles which the Russians currently rely on were designed in 1988 during the Soviet Union and were built at a factory in Dnipropetrovsk, in what is now the Ukraine.

He said: 'Not only are they too fast but they have got rid of the predictable flight path.

'It manouevres all the way so it is terribly difficult for any missile defence system to shoot it down.'

The Russian Defence Ministry plans to put the Sarmat into service in late 2018 and remove the last SS-18 by 2020.

The Sarmat has been in development since 2009 and is scheduled to start replacing the old ICBMs in 2018.

The new missile is said to be undergoing testing near Miass in Russia.
While the US is engaged in managing their clown, Iran uses propaganda to claim the US has declared war with Russia, Russia is developing nuclear warheads in the Ukraine, which Russia just happened to invade when it needed to upgrade its old nuclear weapons in the Ukrainian plant. Russia has had a plan all along: use propaganda to distract the US, use propaganda to get ISIS to fight the US and weaken it, use propaganda to destabilize the Presidential election and all the while, use the distraction as cover to build its nuclear weapons while it invades the Baltic states and moves across Europe. Once KGB, always KGB. Let's not underestimate this man and call him a mere chauvinist, let's just call him dangerous. And really, America, let's wake up to the reality that he planning for war.